Special Invitation for Worship Leader Gold Members Only
Upgrade Now to Jason Hatley's 12-Month Worship Leader Coaching
Eliminate Your Stress, Have Greater Effectiveness and Grow a Healthy Worship Ministry When You Join the Worship Leader Coaching Network
Upgrade NOW and Receive over $1,509.00 in Bonuses!
Special Worship Leader Gold Only Rate:
Only an additional $148 per month
(normally $297.00 per month)
HURRY – BONUSES ENDING SOON!
Jason will personally coach you and help you lead your worship ministry toward health and growth. This new 12-session monthly Worship Leader Coaching Network is available now, with a new on-demand online format, allowing you to participate in the monthly coaching sessions in real-time, or at your convenience each month.
This network is focused on Overcoming the Seven Challenges of a Worship Leader that Jason has identified and taught to thousands of churches – through books, resources and live events – and is provided in such a way that you can participate (and re-watch) at any time.
You'll join Jason in monthly coaching sessions that you can fully participate in anytime 24/7. You will receive both the audio and video of each session, so your experience will be identical, no matter when you log in.
AVAILABLE 24/7:
Acces the NEW Worship Leader Coaching tab in your coaching hub. Each month receive FREE downloads, Coaching blueprints to help you implement the systems, and FULL acces to the replay of each network session.
Even if you miss a session, the new on-demand access means that you can participate at your convenience each month, and review the coaching session as often as you like.
IN-DEPTH:

Led by Jason, this network is based on the Seven Challenges of a Worship Leader, and specific ministry strategies to help you overcome them. Sessions include:
The Seven Challenges of a Worship Leader Overview
The Call of a Worship Leader: Understanding and Excelling in Your Unique Calling
The Personal Growth Challenge: Develop Your Personal Leadership Habits
The Pastor Challenge: Maximize Your Relationship with the Lead Pastor
The Planning Challenge, part 1: Plan Your Services Months in Advance
The Planning Challenge, part 2: Reduce the stress of week-to-week planning.
The People Challenge, part 1: Structure Your Worship Team for Health and Growth
The People Challenge, part 2: Develop your Auditions Strategy & Double Your Team
The People Challenge, part 3: Leadership Strategies for a Successful Worship Ministry
The Provision Challenge: Budget, Staff and Teach Stewardship to Your Team
The Professionalism Challenge: How to Bring Out the Best in Your Team
The Production Challenge: Ensure every Sunday is the BEST it Can Be
PLUS: You will receive a customized Coaching Blue Print each month that gives you specific next steps!
AFFORDABLE:

The Worship Leader Coaching Network is normally $297 a month, but as a Worship Leader Gold member you'll lock in the lowest rate available: only an additional $148 a month for the full network. You'll still keep ALL of your Worship Leader Gold membership benefits, and now have access to over $1,509.00 in new bonuses resources.
Immediate Upgrade Bonus:
The Planning Worship Services for Life Transformation Workshop ($599.95 value!) – In this LIVE recording of the popular 6-hour workshop, Jason Hatley and Nelson Searcy will teach you a proven process for planning creative and life-transforming worship services every week, while reducing your week-to-week Sunday stress!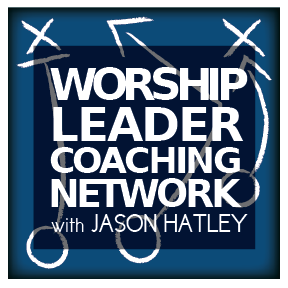 A proven, systems-based approach
to leading a healthy and
growing worship ministry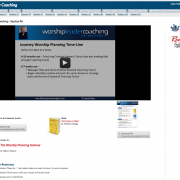 24/7 On-Demand access to
Coaching Sessions in your
customized Coaching Hub!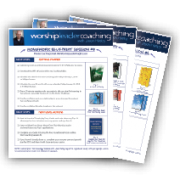 Receive customized monthly
coaching blueprints to help you
implement the systems!
---
As you prepare to join,
please consider that:
One new worship team member tithing will pay for this network.
The average worship team grows by 50% or more.
Jason will be there every step to help you implement
There is no other network like this!
HURRY – BONUSES ENDING SOON!
When you upgrade your Worship Leader Gold Membership to the Worship Leader Coaching Network, in just the first year you'll receive:
Monthly online sessions – hands-on coaching from Jason Hatley on all Seven Challenges of the Worship Leader.
Regular Group Q and A calls to ask your specific questions.
Over $1,509.00 in FREE resources from Worship Leader Insights PLUS special discounts on any new resources.
Unlimited email access to Jason and the WLI team.
FREE attendance at (live or web) training events during your network (up to $1,249.00 value)
A monthly environment where everyone is focused on a Kingdom agenda.
The chance to grow and take your worship ministry to the next level!