Take Your Worship Team to the Next Level
Join the Worship Leader Coaching Network with Jason Hatley
Eliminate Your Stress, Have Greater Effectiveness and Grow a Healthy Worship Ministry When You Join the Worship Leader Coaching Network
Join NOW and Receive over $2,322.20 in Bonuses!
HURRY – BONUSES ENDING SOON!
Jason will personally coach you and help you lead your worship ministry toward health and growth. This new 12-session monthly Worship Leader Coaching Network is available now, with a new on-demand online format, allowing you to participate in the monthly coaching sessions in real-time, or at your convenience each month.
This network is focused on Overcoming the Seven Challenges of a Worship Leader that Jason has identified and taught to thousands of churches – through books, resources and live events – and is provided in such a way that you can participate (and re-watch) at any time.
You'll join Jason in monthly coaching sessions that you can fully participate in anytime 24/7. You will receive both the audio and video of each session, so your experience will be identical, no matter when you log in.
AVAILABLE 24/7:
Available now via a new on-demand, online module format, where you can participate at your convenience each month. Your experience will be identical, no matter when you log in.
IN-DEPTH:

Led by Jason, this network is based on the Seven Challenges of a Worship Leader, and specific ministry strategies to help you overcome them. Sessions include:
The Seven Challenges of a Worship Leader Overview
The Call of a Worship Leader: Understanding and Excelling in Your Unique Calling
The Personal Growth Challenge: Develop Your Personal Leadership Habits
The Pastor Challenge: Maximize Your Relationship with the Lead Pastor
The Planning Challenge, part 1: Plan Your Services Months in Advance
The Planning Challenge, part 2: Reduce the stress of week-to-week planning.
The People Challenge, part 1: Structure Your Worship Team for Health and Growth
The People Challenge, part 2: Develop your Auditions Strategy & Double Your Team
The People Challenge, part 3: Leadership Strategies for a Successful Worship Ministry
The Provision Challenge: Budget, Staff and Teach Stewardship to Your Team
The Professionalism Challenge: How to Bring Out the Best in Your Team
The Production Challenge: Ensure every Sunday is the BEST it Can Be
PLUS: You will receive a customized Coaching Blue Print each month that gives you specific next steps!
AFFORDABLE:

Everything of value in life requires an investment (just think about the instruments you own). The same is true for this Coaching Network… though we have tried to keepthe investment as low as possible. But remember, you are receiving thousands of dollars of resources, free passes to our seminars, email support and private consulting. At the same time, you are saving thousands of dollars in hotel, flight costs, rental car expenses, gas, etc.
With that said, the Worship Leader Coaching Network is only $297 a month. You'll find that is about the same as taking 3 key team members to one of the major worship conferences this year (registration, travel, hotel, meals).
I love the big conferences two, but consider this. With the Worship Leader Coaching Network you…
You get

 

12-months

 

of hands on personal training with systems that ACTUALLY

 

work in churches of all shapes and sizes
You walk away with over

 

$2,322.20 of FREE Resources

 

(try doing that at the resource table at your next Worshp Conference)
The training doesn't end after 3 days… in addtion to the 12-monthly session, you get audio

 

MP3's of each session, meaning you walk away with a library of

 

over 24 hours of nuts-and-bolts practical systems

 

to build a health and growing worship ministry and share with the key leaders in your church.
Personalized Q&A call-in sessions to

 

have all of your questions answeredabout what we disucss in the network
Plus much more!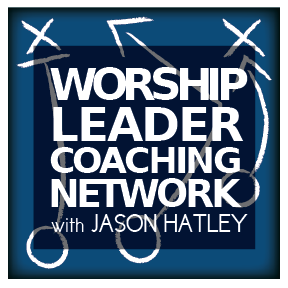 A proven, systems-based approach
to leading a healthy and
growing worship ministry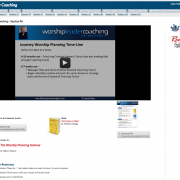 24/7 On-Demand access to
Coaching Sessions in your
customized Coaching Hub!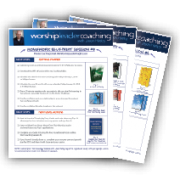 Receive customized monthly
coaching blueprints to help you
implement the systems!
---
As you prepare to join,
please consider that:
One new worship team member tithing will pay for this network.
The average worship team grows by 50% or more.
Jason will be there every step to help you implement
There is no other network like this!
HURRY – BONUSES ENDING SOON!
When you join theWorship Leader Coaching Network, in just the first year you'll receive:
Monthly online sessions – hands-on coaching from Jason Hatley on all Seven Challenges of the Worship Leader.
Regular Group Q and A calls to ask your specific questions.
Over $2,320.20 in FREE resources from Worship Leader Insights PLUS special discounts on any new resources.
Unlimited email access to Jason and the WLI team.
FREE attendance at (live or web) training events during your network (up to $1,249.00 value)
A monthly environment where everyone is focused on a Kingdom agenda.
The chance to grow and take your worship ministry to the next level!