Raising New Worship Leaders:
A Proven Process to Identify, Develop, Disciple, and Involve NEW Worship Leaders in YOUR Church!
Get this BRAND NEW resource as
a special introductory package –
Total Retail Value of $1,291.15
Yours today for only $99!
Includes $991.20 in FREE Bonus Resources – You save over 89%!
 Is there a Biblical mandate for raising new Worship Leaders in your church?
How do you tell the difference between a potential Worship Leader and just a good singer or musician?
What are the Top 5 "excuses" the average Worship Leader gives for NOT developing new Worship Leaders, and how can you avoid them?
How much work is it (really) to develop new Worship Leaders?
How will raising up new Worship Leaders actually SAVE you time every week?
What three places can you look to start identifying new Worship Leaders TODAY?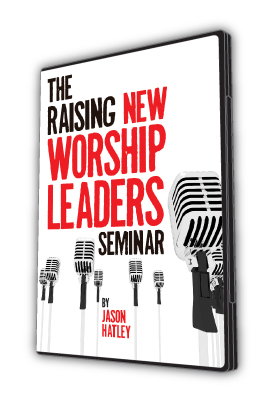 Receive over 3 hours of in-depth, practical training from Jason on how to Identify and Raise up new Worship Leaders in YOUR church. Get your copy now!
There is a HUGE GAP in Worship Ministry today. It's not an issue of excellence, desire, or even worship planning. It runs much deeper than that, and has a much more devestating effect on the long-term health of your Worship Team (and your entire church).
If left unfilled, it will mean an ever-increasing work load for you as the worship leader, and an ever-decreasing level of involvement for your Worship Team.
This GAP is a lack of leadership development — specifically the development of NEW Worship Leaders inside your church.
Jason Hatley, Pastor of Worship Arts at The Journey Church and Founder of Worship Leader Insights recounts his personal experience with this challenge: