NEW RESOURCE TO HELP YOU GET MORE DONE & EMPOWER YOUR STAFF AND VOLUNTEERS! SAVE OVER 80%! ENDS FRIDAY!
Transform Your Ministry with The Power of a To-Do List
We all want to be more productive, less stressed and more focused on the mission God has for us. Good news – the secret to getting it all done is easier than you think.
Join Jason Hatley in this hands-on workshop to discover how one simple — but powerful — tool can transform the effectiveness of your staff and ministry!
Pick up this BRAND NEW resource, The Power of a To-Do List, AND over $149.85 in Bonuses for the super low introductory rate of only $59 (regularly $149.95)!
That's a total retail value of $298.85 – you save over 80%!
Discover the simple but powerful tool that can transform the effectiveness of your staff and ministry. Secure your copy now! PLUS – CD purchases come with FREE immediate download!
A Note About this Powerful New Resource
Dear Pastors and Worship Leaders,
I want to tell you about a new resource that I never thought would be released. In fact, it all began when I was invited to present to a group of ministry leaders at a gathering at the Walt Disney Resort in Orlando, FL. The topic: Personal and Team Productivity.
They were recording the event almost by accident. . . and I'm glad they did.
Once I concluded my two hour presentation, the response and on-going conversation in the weeks since has been extremely positive. Almost every person at that gathering asked if they could get the recording. This led us to think… maybe we should share this with you, too!
What is the resource all about and why should you get it now at a super reduced investment plus a ton of helpful and supporting bonuses? Keep reading below to learn more!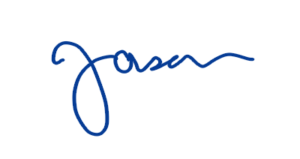 As worship leaders we feel like we're busier today than we've ever been. Every Monday morning we face down what seems like an even fuller week than the one before.
Technology doesn't seem to help either, but creates a kind of information overload. Sure, we can do more and do things faster. But that also means more urgency, more demands, more expectations to be available 24/7 — in short, more stress in ministry!
But there's a flip side to this, as being busy is not necessarily a bad thing. It reminds us that we have a great mission to accomplish. There is a great work to be done in fulfilling the Great Commission.
Being busy is especially not a bad thing — when you have the right tool.
But is it really possible that one simple tool can . . .
… show you EXACTLY what you need to get done today (and each day this week)?
… help you focus on important Kingdom initiatives, not just what pops into your inbox?
… declutter your mind and clarify your thinking?
… give you the peace of knowing that you got it all done today?
… enable you to get more done in a day than you sometimes get done in a week?

While at the same time…
… revolutionize how you manage your volunteers and staff, whether it's a group of 1 or 100?
… help you focus your team on their most important ministry goals?
… create clarity among your entire team?
… give you the freedom to be away from the office knowing that everything will get done?
This simple tool is not a new gadget or app. It's as common as a trip to the store. But, when applied correctly, it is a powerful ministry tool that makes all of this possible.
It's sounds simple — and it is. BUT . . . before you start thinking that a to-do list is nothing more than a few random thoughts on a post-it note, remember the principle of unfocused light.
Unfocused light has very little power — just enough to light a room. But focused light can cut through steel!
In this brand-new resource you will discover the secrets to a POWERFUL and FOCUSED to-do list. You'll learn how to have your staff and volunteers create their own list, and then leverage their list to make management simple again!
Consider how vital lists are to every area of your life:
Going grocery shopping? Better make a list.
Headed on vacation? Check your packing list.
Want to email every first-time guest in your church from last month? You'll need to create a list.
Ready to start that DIY project at home? If you want to make only one trip to the store, you might want to make a list before you go
Even Santa Claus makes a list (and checks it twice!)
You can't live without lists, so why would you work without a fully maximized list for you . . . and your entire team?
Ministry can be challenging but with the right to-do list we can enjoy the ministry and mission that we get to serve. Use this powerful tool to accomplish all that we can for God's Kingdom!
It's the Power of a To-Do List.
And in this brand-new seminar from Jason Hatley you will discover how the right to-do list can transform the effectiveness of your Staff, Volunteers and Ministry!
In this new resource, recorded live, you will discover you will learn how one simple tool can transform the effectiveness of your team and ministry, including:
How to be more productive and less 'busy'… starting right now!
How to sleep well tonight knowing that you got it all done today
Three surprising benefits to busy seasons in ministry (I know it sounds crazy, but #2 is BIG)
Five simple steps to create your own "holy smokes, I can't believe how much I get done every day" to-do list in less than 15 minutes
Two of

the most famous "lists" of all time

, and how one of them won World War II (and why BOTH lists are important to you)
Five tells of a "bad to-do list" (you'll be shocked by the first one)
Five traits of a "good to-do list"
The three types of people in your life who ABSOLUTELY NEED a powerful to-do list
How technology helps (and hinders) your work and how to make it work for you
How to make managing staff and volunteers simple again
The FIRST thing that every one of your direct reports MUST do each week
How to eliminate confusion, relieve stress and create cohesion with your staff and volunteers
How to know exactly what your staff are working on every day of the week, even when you're not in the office
Eight time management principles that will multiply the power of your to-do list
What you can do in 15 minutes today to ease your stress and maximize your kingdom impact over the next 8 days
The Power of a To-Do List Seminar includes: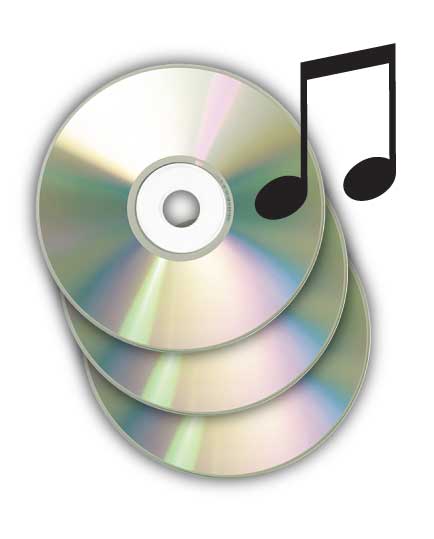 Almost Three Hours of Training broken down into easy-to-manage segments on MP3 files.
CD buyers – You will also get a FREE download version so you can listen immediately!.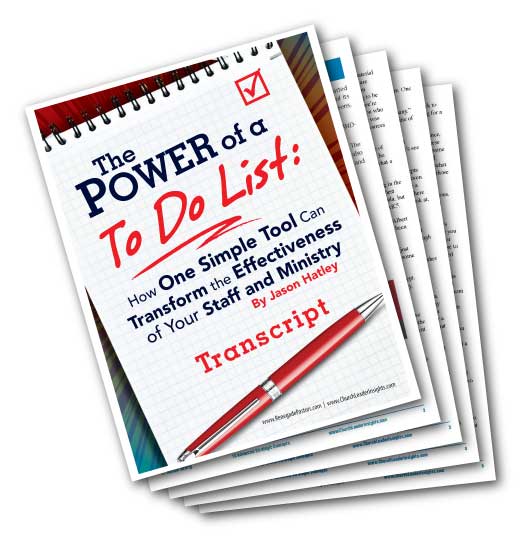 Complete Transcript of the training that you can save onto your computer or tablet and read in more depth after going through the audio training.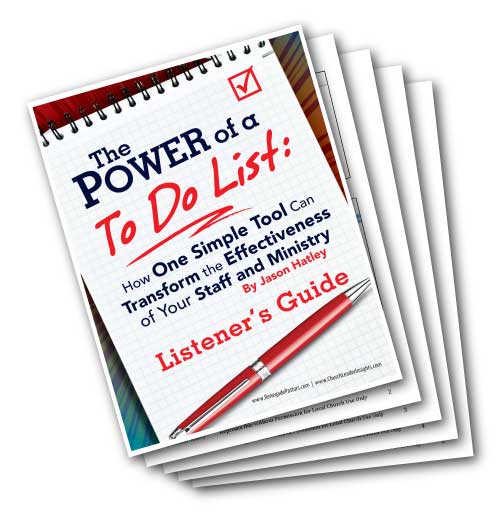 Student Guide with fill-in-the-blank notes in a convenient PDF format that you can print and use to follow along, or simply view on your computer or tablet for easy reference.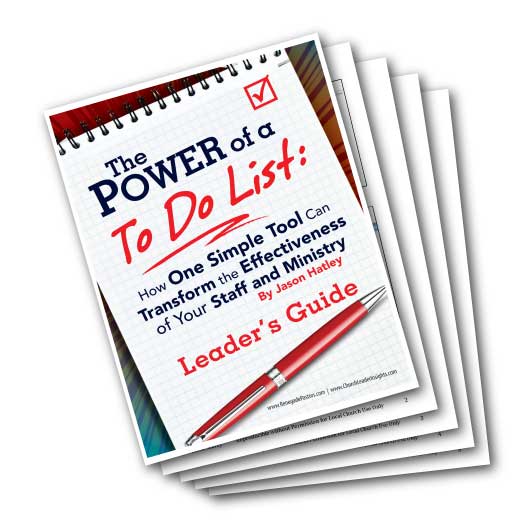 A Complete Leader's Guide so that you can take this workshop and train other pastors and key leaders on your team. You'll have everything you need to lead this workshop in your church!